Well, I missed last Friday with "around the web" so there was so much to choose from this week!
1. Why Viral Campaigns Can Still Be Challenging for Non-Profits from Mashable, they talk with Katharine Mansell, the
media relations manager for WSPA UK, about Not In My Cuppa campaign, and raise some hard questions about how to use social media to create change, and how to measure the impact of viral elements like YouTube videos.
Take Aways: If you're launching any campaign — viral or otherwise — set up alerts for keywords and phrases to help measure where your message is being shared off-site.
2. Learn more about Ja-nae"s Revolution Road Trip, discovering Social Good to SXSW from Steve Garfield on Steve Garfield.tv (if you are in the Boston South area, she will be speaking at the SSWBN Breakfast in April, after her return from the trip!) [more information on the breakfast sponsored by the Ed Foundation]
3. HOW TO: Claim Your Nonprofit's "Company Page" on LinkedIn from Nonprofit Tech 2.0, a good step-by-step.
LinkedIn is now the 12th most visited website in the United States and with almost 100 million active users, you should claim, enhance, and monitor your nonprofit's Company Page.
4. A grant program aimed at the heart & soul of your nonprofit from Socialbrite a guest post by Juan A. Garcia Cid
Marketing and Media Manager, Community TechKnowledge.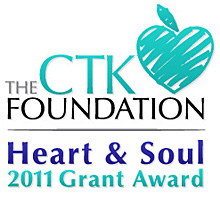 This year's Heart & Soul grant program, put on by the CTK Foundation Fund, is designed to refine the sense of mission that exists in the hearts of your staff, board members and supporters. To win, you have to channel your creativity to write an original four- to eight-line poem or stanza that reflects the work or mission of your nonprofit. No poets on staff? Ask your supporters to write a poem for you. The first place winner will receive $10,000 and will have their submission turned into a song to be used in public education or awareness.
5. Spring Ahead, Fundraising Look Back from Frogloop. What are your fundraising plans, read this post before you solidify your plans!
Blackbaud issued the 2010 last week.  Download your .  The report includes online giving data from over 1,400 nonprofits.  These organizations represent $5.1 billion in total fundraising.
A couple of key findings of the report: Online giving grew 34.5% in 2010. 7.6% of total fundraising now comes from online giving.